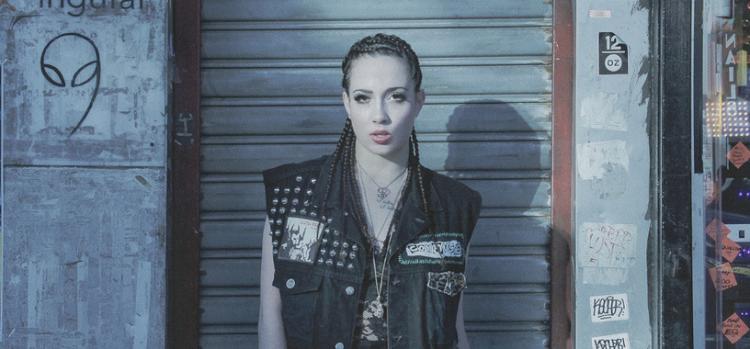 If you're looking for the perfect anthem to blast out of that convertible you borrowed from your grandprarents, or to include on the suggestive mixtape you made for your girlfriend, we might just have the perfect artist for you. Sizzy Rocket, the Las Vegas native with a penchant for catchy hooks and a story to tell, has already proven her chops when it comes to provocatively bi-curious bangers; but with latest single 'Bad Kids', she takes her music out of the clubs and into the streets with her inspirational ode to the rebels of the night.
While her early performance experience involved dancing to Britney Spears with her dance group at age seven, Rocket seems to have traded the strip malls for strip clubs lately as she's released string after string of dancefloor banger. 'Girls' doubles as both a role-reversed satirical Beastie Boys cover which explores the pressures placed on females in the media and a melodic synth-pop jam perfect for your next beach turn up; while 'Bestie', our personal favourite, explores that awkward space in between best friend and lesbian lover and manages to turn the phrase "I wanna fuck my best friend" into the catchiest hook we've heard in months.
But with 'Bad Kids', the musical manifestation of a cloud of glitter floating over a pool of lava, Rocket slows it down to approach power ballad territory with her nostalgia for teenage angst parties. The name may be Gaga related, but the similiarities end with the song's concept: "We've got no future/Nothing but the high that we get from the time that we're wasting just from the thrill of it all," Rocket laments over some melodic synths straight out of Super Mario, while inspiring a new 'Gangnam Style' dance trend with her choreography in the video. The 80s may be long gone, but the spirit of rebelliousness and the scent of leather they inspired still live on in this girl.
No word yet on a full-length album rollout, but with collaborations from Diplo, The Scissor Sisters' Babydaddy and DJ Khalil, we wouldn't be surprised if we the future brought much more from this diva in training.
Check out 'Bad Kids' below and let us know what you think!