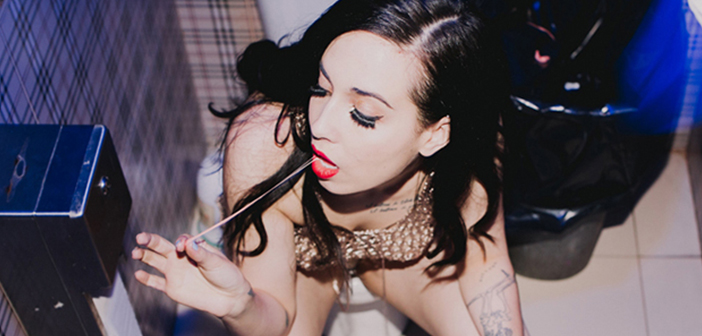 In a pop microcosm obsessed with replicating the soul of Adele, the weirdness of Lorde or the body of Beyoncé, up and comer Sizzy Rocket is a true anomaly - a signed and successful pop star whose reliance on references does little to tarnish her own independence and uniqueness. While there are the obvious comparisons to an artist FKA Stefani, which are for the most part accurate - both are talented pianists turned New York punk rockers turned shiny new pop sensations - Rocket's brand of shock value is much more socially conscious than Gaga's, relying less on the simple act of exposing the female body and more on the dialogue behind why this should be acceptable; and her queerness is more brashly overt. Rising to popularity with a cover of The Beastie Boys' 'Girls' (predictably controversial given who dominates band's fanbase) and the (homo)sexually charged bounce about best friend banging that was 'Bestie', Sizzy's recent releases have only continued to diversify her already broad outlook - with newly released buzz single 'Need Somebody' drifting into a nostalgic 80s synth-pop landscape, and 'Boy' riding the wave of alternative R&B lead by artists like Drake and Tinashe.
Earlier this week, we asked Sizzy about her upbringing in the City of Sin, her time at New York's prestigious Clive Davis School of Music, and the experiences that inspired her soon to be released debut album, THRILLS. Read on to find out more!
Hi Sizzy! How are you today? Where are you chatting to us from?
I'm chatting you from my little spot in Brooklyn, New York. 
We wanted to start by discussing how you first got started in the music industry. I've read that you became interested in performing through a love of dancing to Britney Spears, but that sounds almost too poetic to be true! We'd love to hear what first made you want to become a singer.
Yeah, I got my start doing pop songs in outlet malls in Las Vegas, where I grew up. One day I'm going to go through all of the VHS tapes... 
Las Vegas is often painted as a debaucherous and wild type of city. How do you look back on your childhood growing up there? Do you think that the city has informed your music at all?
Definitely. I'm very drawn to neon, to icons, and I think Vegas has to do with that. I actually just shot the video for 'THRILLS' in Vegas and it's dope. 
After moving from Las Vegas to New York, you attended NYU's Clive Davis School of Music. What did your time at college teach you about the kind of music you wanted to make?
I spent my early time in New York running around getting drunk and getting high and listening to LCD Soundsystem and staying up late and falling in love and just living my life. I would bring champagne to class. I would fly to LA on my spring breaks and winter breaks and make EPs and just put them out. That's how I got signed. I started playing shows and covering myself in glitter and doing Iggy Pop covers. I was a wild child, and all of the stories on my record come from those experiences. I was signed to a record deal and dropped my sophomore year. I think every 18 year old who moves to New York gets hit in the face with this insatiable freedom, this immediate exposure to early failure and being a small fish in a big pond. It terrified me in the best way but I wouldn't change much. For me college was about meeting cool people and figuring out what I wanted to say as an artist. 
Everytime I think of your name, I imagine some drink that's like a super turnt up version of sizzurp. What's the real story behind your stage name?
My name is a variation on Ziggy Stardust. I was just discovering Bowie and Iggy Pop and punk music at the time, when I was 17.
You first broke into the mainstream in 2014 with your cover of Beastie Boys 'Girls', which made quite a few waves online and seemed to be interpreted by many as a particularly feminist song - one memorable YouTube comment stated simply, "This IS the anthem for the 4th Wave Feminists!" Was this in mind when you first wrote the song? How do you feel about such interpretations?
I definitely didn't write it to be a feminist anthem. I just thought it would be a clever cover and I wanted to shoot with my baby Eve Del Prado because we make really raw, colourful visuals together. I rented a limo and just got my girls together and wanted to have fun and talk about what it's like to be a girl working in music. Then everyone started pointing their fingers and calling me a feminist. Whatever. It's cool. Peaches is like my idol and she can explain feminism better than I can so if you want to listen to a feminist pop star you should probably listen to her instead.
Recently there has been an influx of feminist-themed material invading pop culture, with stars from Taylor Swift to Jennifer Lawrence advocating equality through their work. How do you feel about this trend? Do you think that the movement is being commodified in some ways, or are you happy it's being brought to a larger audience?
I don't think my music is exclusively feminist. I mean, I am one. It just goes without saying now, like it's 2016. Women and men should be equal, obviously. Here's how I operate: if I want to wear a latex catsuit, that's what I'm going to wear. If I want to wear jeans and a crop top with my tits hanging out, that's what I'm going to wear because it makes me feel hot. How do we avoid the male gaze completely? I'm not sure yet. But I thrive on male attention. I write about my experiences with men. I write about my experiences with women. I don't know if sexism can be avoided in the music industry completely, but I just do what makes me feel good and encourage young women coming into their own to do the same. 
'Bestie' was another song which people assigned a strong social message to. Were you aiming to discuss social issues with the song, or is your own personal experience always primary when you're writing your tracks? What would you say is the main goal you wish to achieve with your music?
I mean, I definitely knew that was going to happen and I said everything I could say about Bestie already. I like being polarising because it's exciting to me. Great artists raise social questions whether they're trying to or not, and I just want to be a great artist. I want to pluck heart strings and make people feel things. And I want to learn how to harness my creativity and my talent and my power to deliver strong messages that wake people up. But 'Bestie' isn't the core message of who I am, or what my project is about. It was just a fun, campy moment that got a lot of press.
A user named @Jimmy Gnecco wanted to know if you are still close with the bestie in question!
We see each other from time to time.
We're so excited to hear your first album, THRILLS. What inspired the title you chose for the project? Do you have any idea of a release date yet?
THRILLS comes from my days running around listening to LCD Soundsystem as a little New York Punk brat. It means losing yourself, finding yourself, drinking too much, doing what scares you and hitting your limits. A lot of this is explained in the liner notes. And yes, I know the release date but I can't announce just yet...
It seems like your music can flit pretty rapidly between dance, pop, and R&B. How do you think the album consolidates all these sounds?
Think of this album as a collection of my best writing at this time in my life. I didn't like, sit down and make an album in the traditional sense, writing and working with one producer with one clear concept. I went through my catalog and chose these songs, regardless of what they sounded like or how they fit together. Each one stands on its own legs. 
The latest track we've heard from you is 'Need Somebody', which I'd venture to say is the most straightfoward pop song we've heard from you so far. How did that song come around? Are there any plans for a music video?
I wrote this song with Kenna, who also lives in Brooklyn. We just wrote it one day. It took about an hour. My best songs just pour out like that. And yes, I'm talking about doing a video but since it's not an official single I'm not sure.
What can your fans expect from you in the coming months?
So. Much. Shit.  
Are there any last words you'd like to say to our readers?
Thank you for listening, and talk to me on Twitter @sizzyrocket. I don't bite...hard.
Rocket's debut album, THRILLS, will be released at some point before her birthday on April 16th. Don't forget to check her out on Facebook and Instagram, where she recently posted a design from our member @RadiantEdits; and let us know what you think in the comments below!