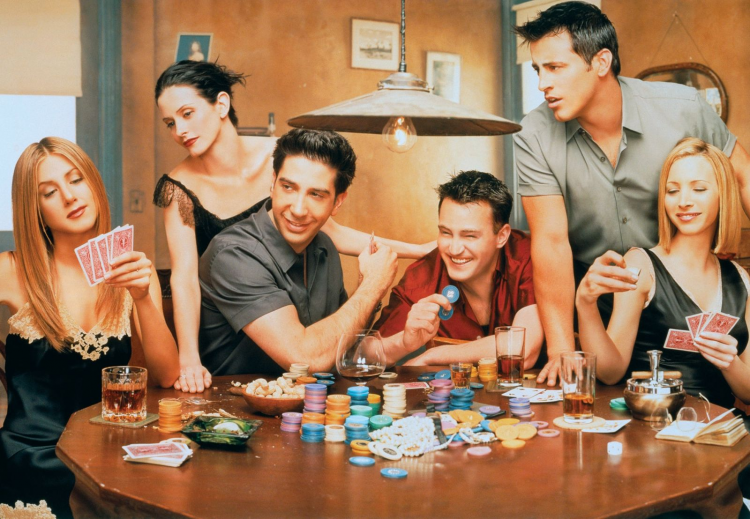 Since it's season finale in 2004, talk of a Friends reunion has been constantly kept alive by fans - and just as frequently shot down by showrunners and stars. But if a new report is true, it seems a reunion is finally going to happen - if not in quite the way fans were hoping.
According to new reports, the Friends cast will be reuniting on their old network of NBC for a star-studded two hour special that will pay tribute to director James Burrows, who directed fifteen episodes of the long-running sitcom and recently completed production on his 1 000th television episode (this time for NBC's comedy Crowded). The tribute, which is being compared by industry insiders to last year's Saturday Night Live Fortieth Anniversary Special, will also reunite the casts of other well-known Burrows-helmed sitcoms, including Taxi, Cheers, Frasier, and Will & Grace; as well as bring together the stars of more recent Burrows programs, such as The Big Bang Theory and Mike & Molly.
There is one catch though - the reunion will only include five sixths of the friends. According to a spokesperson for the actor, the man behind Chandler Bing and new The Odd Couple star Matthew Perry won't be able to attend the taping later this month due to rehearsals for an upcoming London play. "I wish I could say it was going to be a reunion," said co-star David Schwimmer. "[It's a] 5/6 reunion." Instead, Perry will be participating in the special by way of a taped message.
The tribute is set to air next month on Sunday, February the 21st. Will you be tuning in, even without Perry's involvement? Or is it just not a Friends reunion without Chandler? Let us know in the comments down below!