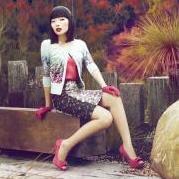 ---
Similar Content

By

DockDock

Samantha Jade won the x factor Australia back in 2012. she was already a recording artist but they drop her , so she come back to the x factor she won and her debut single went x3 Platimun when she won.! since that her album from x factor went gold #3 on the Aria chart but her second album didn't come till 2015 , since 2012 . others x factor winners or runners up had their second album already the next year. i was surprised when  Sony did that to Samantha. idk why they did!... Since then she release just singles to try get x3 platinum again but didn't happen 1 platinum and 2 gold then a dust of charts sadly and her videos went worst like her " UP" music video , now she release new songs 2016/2017 and the music video are good , but Sony way to promote singles or artist are so wrong... Samantha was trying in Acting too! she did good  tv show Home and Away and was even nominated at logie! Sam has a new album i think is out this Jan! finally. but the real question is why she is not happen? i loved her in her audition looks really nice cute girl i think she become sexy and GP didn't liked sadly.. she is ready to be big but what people can't connect with her? Sony's fault? her new image? bubble POP? no charisma? her voice? people were accusing her during x factor to be "fake" too!  or because Australia has already a Kylie Minogue?

Samantha's before the x factor:

Samantha's x factor audition
 


Samantha's winner single The x factor

 Samanthas single ft Pitbull , showing her power on stage:
so far my fav song right now from her: Sam and Cyrus another x factor aus winner 
Latest Single :
 


By

DockDock

Dami Im was in Nashville recording new music and this image now are around internet , she didn't say anything yet! she just comeback from the U.S to Australia but seems like her new album  release next year in April? her past tour for the C.C Album started in 2016 till 2017- so now this kinda tour with new material ,they say. , looks like she is going to release really soon this album. "new material from her upcoming album" i just want to leave really behind the classic carpenters cover album when she was on Eurovision , Sony's fault.- GOLD album at least . i need originalsss

Please login or register to see this attachment.

Please login or register to see this attachment.

Please login or register to see this attachment.