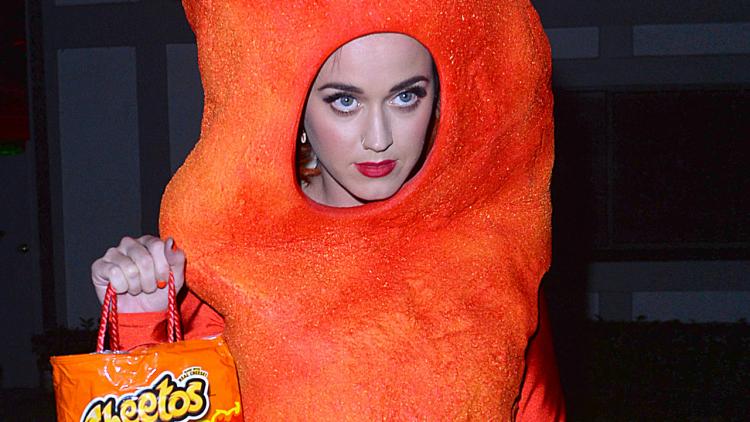 Halloween is one of the most celebrated holidays in the world, even if its presence isn't marked on any calendar. Some of its appeal definitely has to do with the fact that its mostly polytheistic - although it started out as a Wiccan holiday, Halloween is essentially now atheist and up to be enjoyed by anyone. But its also one of the thematically strongest and widest, and one of the funnest, as it gets people off church pews and into their local communities and brings back the childhood joy of playing dress up.
But despite all that, there's relatively few songs that have been released especially for All Hallow's Eve. Unlike Christmas, which gets half a dozen high-profile holiday-themed albums dedicated to it every year (thanks, Mariah), Halloween has never had it's moment to shine on the pop charts, with partygoers and trick or treaters having to deal with whatever spooky remnants they can scratch out of the rest of the years hits. In this list, we'll be looking at ten of the best songs to play at this year's Halloween bash - and though few of them are specifically Halloween themed, all of them are bound to go over a treat with whatever riff-raff you'll have knocking at your door on Halloween night.
10. Ministry - Everyday Is Halloween
The most explicitly "Halloween-ish" themed song on the list, Ministry's 'Everyday Is Halloween' has been a staple of Halloween parties for decades, ever since it was released in 1984. Moreover, it has been adopted by the Gothic community as a kind of mantra to live by every day, thanks to its lyrics of disenfranchisement and isolation. It may not be the most well-known track at your party, but the new wave jam is sure to turn more than a few heads and makes some good background music for your session of "pin the bandage on the mummy".
9. Britney Spears - Toxic
It might not be the most logical song to include on a Halloween collection, but Britney's 'Toxic' is actually perfect for any spooky themed party. Not only does the song discuss a dangerous kind of love with a poisonous twist, but the music video pretty much perfectly captures the Halloween vibe with the multiple outfit changes and Britney dressing up as various versions of herself to seek revenge on an ex-lover. Otherwise, if you want more of a literal twist on the holiday, check out her under-appreciated bop 'Scary' here.
8. Rihanna - Disturbia
Rihanna's 'Disturbia' is probably one of the most overlooked bops of her career, even though it was a pretty big hit when it was first released back in, 2008, hitting #1 in the US and even being nominated for a Grammy. It's a shame, because the song's refrain of "bum bum be dum, bum bum be dum dum" is insanely catchy and sure to make everyone hit the floor. The video is also one of Rihanna's best, featuring some of her most iconic looks and some truly unsettling scenes of her being restrained and covered in spiders, or chained down in a narrow alcove. 'Disturbia' is definitely Rih's spookiest song, but if you're just here to play dress-up then don't forget about 'S&M', and if you need some filler tracks for your playlist then don't forget about 2009's Rated R album, especially it's lead single 'Russian Roulette'.
7. Sky Ferreira - Night Time, My Time
If you're sick of the poppy, dancey hits straight from the charts and just looking for a track to roll a blunt to, look no further than Sky Ferreira's 'Night Time, My Time'. The title track from her debut album, the song's title is inspired by a phrase uttered in the film Twin Peaks: Fire Walk with Me, which explains a lot about it's vibe. The song drips of Lynchian influence with it's beat (consisting of just a heavy drum and strings) and the vocal style Ferreira uses to deliver it which is essentially a breathy whisper. Definitely not a club banger, but it's a nice change of pace from the more up-tempo songs.
6. The Cranberries - Zombie
'Zombie' is the perfect Halloween song just for the name alone, but it's catchy chorus only makes things better. Really, the only reason this isn't higher on the list is because of the real subject matter behind the metaphor: according to lead singer Dolores O'Riordan, 'Zombie' is actually about a series of IRA bombings in 1993 that led to the deaths of two children, which makes it a little hard to dance to willingly. Still, it's the perfect track for late in the night when the drinks have stopped flowing and everyone's getting sleepy.
5. Eminem - The Monster (Feat. Rihanna)
I wasn't the biggest fan of Eminem's 'The Monster' when it was first released, but I'll admit that after hearing dozens of spins on the radio that "ooh, ooh" post chorus really started getting to me. It might not be the easiest song to dance to, but everyone's bound to sing (or even rap) along and the psychological horror themed lyrics are perfect for any spooky celebration. For a more mellow listening experience, try out the songwriter Bebe Rexha's original demo for 'The Monster'.
4. Yeah Yeah Yeahs - Heads Will Roll
Possibly the most little known song on this list, the Yeah Yeah Yeahs nevertheless have one of the catchiest Halloween themed songs with 'Heads Will Roll'. Released in 2009, the song was apparently written from the perspective of Alice in Wonderland's Queen of Hearts, which explains the chorus of 'Off, off, off with your head'. The stylish music video even makes allusions to 'Thriller', with a dancing werewolf in red shoes making his way through each member of the band as they play the tune. To get the party even more "lit", consider spinning A-Trak's remix of the song as well.
3. Sharon Needles - Call Me On The Ouija Board
Pretty much every song from Sharon Needle's discography can culminate into a Halloween playlist, but there's none quite as catchy as the stellar 'Call Me On The Ouija Board'. Released on the spooky cooky Hallowooky drag queen's first album PG-13, the song alternates between shameless pop jam and horror movie parody in a way only Needles can, but its amazing chorus puts it up there with some of the best songs from Britney or Gaga. Bonus points goes to the music video, which finds Sharon recreating the best horror films of the past fifty years.
2. Lady Gaga - Bad Romance
Its title might allude to a romance film, but 'Bad Romance' really slips much more heavily into the realm of horror thanks to its creepy lyrics, which range from endless Hitchcock references to lines like "I want your horror/I want your disease". The music video takes things to the next level, featuring a Dracula-esque harpsichord, a collection of coffins that backup dancers awake from, and razor blade sunglasses. Honorary mentions must also go to Gaga's 'Dance In The Dark', 'Monster' and 'Bloody Mary', all of which feature a twisted, dark Halloween vibe in their productions.
1. Michael Jackson - Thriller
Everyone probably saw this one coming from a mile away, but there's really no other song that deserves to take the top spot so much as the King of Pop's incredible 'Thriller'. Released at the height of his popularity in 1983, the song became an instant hit, and its creepy sound effects (think ominous thunder, booming footsteps and dogs howling) as well as its introduction courtesy of Vincent Price make it perfect for Halloween. Moreover, the song's groundbreaking music video is often thought of as the best to ever be made, and revolutionised the medium for years to come. Play the song on it's own and try your best to re-enact the iconic choreography; or, for a more complete experience, break out 'Bad', 'Scream' and 'Ghosts' and dance the night away to MJ's greatest scary hits.