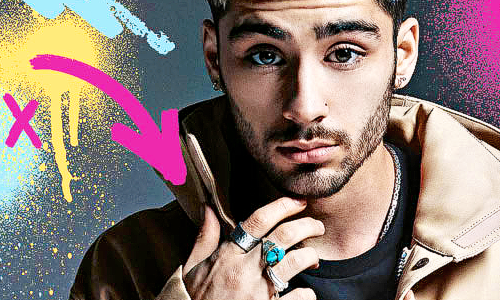 It's official - Zayn Malik is now a solo artist!
The former fifth member of One Direction, who infamously departed the band at the beginning of last year, has been teasing fans with his new material for quite some time now. But it wasn't until today, when he took to Twitter to post the album artwork for his official debut single, that we finally got to see the results of what he's been brewing. Due to be released this Friday, the 29th of January, 'Pillow Talk' will be our first official listen of Zayn's new album, scheduled for release later this year, and his first official single as a solo artist.
— zayn (@zaynmalik)

January 24, 2016
Even if you're already heard Malik's last song to be released, the Naughty Boy collaboration 'I Won't Mind', 'Pillow Talk' will undoubtedly come as a surprise. Despite going hand in hand with the vaguely experimental vibes of that track, 'Pillow Talk' is a lot more upbeat; and, in an environment where Adele is the one to beat, a lot more experimental. The song begins quite starkly, backed only by some atmospheric synths and a distorted vocal loop that wouldn't have been out of place in a track from The Weeknd. But there's a breakthrough into euphoric rock and roll during the chorus, during which an electric guitar overtakes the more experimental vibe and backs up Zayn's passionate vocals.
In terms of concept, the title 'Pillow Talk' should be pretty self explanatory: but in case you really need help, here's a snippet from the chorus. "So we'll piss off the neighbours/In the place to visit tears, the place to lose your fears/Back to misbehaviour/The place that is so pure, so dirty/In your bed all day, bed all day, bed all day/Fucking you, and fighting on/It's our paradise/And it's our war zone." At least, we think those are the lyrics - Malik sings the whole chorus in a confusingly catchy and strangely sexy slur not unlike Sia's in 'Chandelier' which makes them pretty hard to distinguish. Either way, the song is about sex - but maybe not the healthiest kind. "Climb on board/We'll go slow in high tempo," he starts the first verse, "Light and dark/Hold me tight, never mellow". The sex oozing from the track isn't exactly unexpected - in fact, it's practically old hat for ex boy band members to mature their image with their first single. But the sultry, somewhat twisted vibe of the lyrics keeps things surprisingly fresh.
Could it be a hit? With the right promo, maybe. Malik already has legions of fangirls following his every move, even after the One Direction split, which he should manage to keep if he avoids any more Twitter beefs with ex-bandmate Louis. The lyrics may be a little risque, but we feel as though the majority of his fans are at that age where it's pretty cool to hear the word "fuck" in a song. And given how catchy that chorus is, we wouldn't be surprised if this made some kind of impact on pop radio.
Are you interested in what Malik has to offer post-1D, or should he never have left the boy band to begin with? Will you be checking out 'Pillow Talk'? Let us know down below!