The Academy Awards were held recently, which as we all know is an excuse for the elite of the world to multiply in one gigantic cesspool of champagne and swap the names of their plastic surgeons/harvesters of baby dragon blood. In the absence of Fashion Police (R.I.P. Joanie), we've decided to take one for the team and continue the trend of celebrating those stars who actually did it right for once and nailed their red carpet looks. Sisters were doing it for themselves this year, with all of our top six choices being female and the majority of them being people of colour - and, as per usual during OSCARs season, the overriding trend was neutrals - particularly creams, golds and blacks - with any stars opting for vibrant colours tending to go for a vivid red. Check out our personal faves below!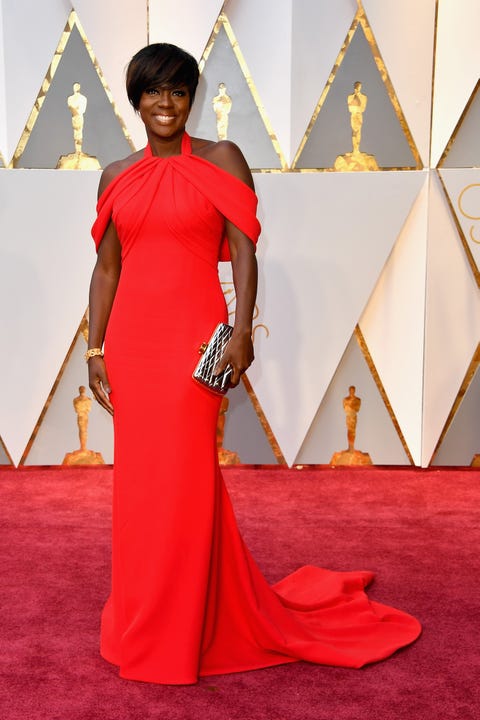 Sixth Place: Viola Davis
Viola Davis, who snatched the Academy Award for Best Supporting Actress for her super powerful role in Fences, is no stranger to a red carpet, and her smoking hot Armani Privé gown is here to remind you why. The dress hugs Vi's natural curves perfectly without seeming overstuffed or overly billowed, and the perfectly draped sleeves add some embellishment to what could otherwise have been a hellishly tired red gown. Most importantly, the dress puts Viola right at the forefront, with her signature wide smile peeking out from a swoop of expensive looking lace front and her makeup natural, subtle and glowing. This outfit is so beautifully selected that we can almost overlook the fact that she's mixed gold and silver accessories, which as we all learnt in The Devil Wears Prada is a total fashion faus pax. Almost.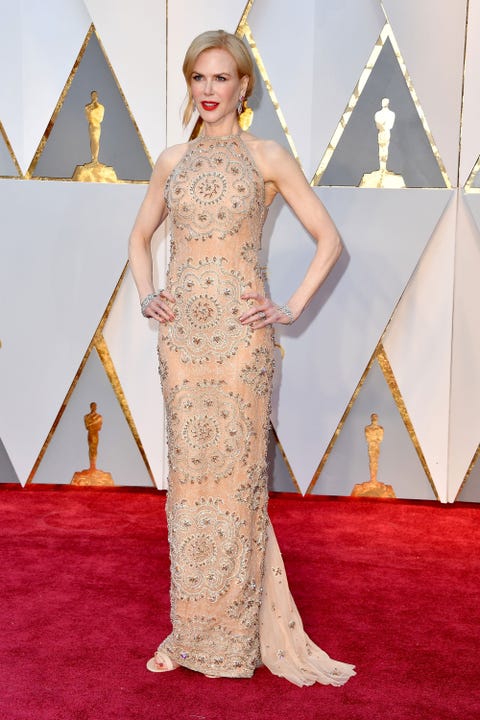 Fifth Place: Nicole Kidman
Darling Nikki has been a red carpet regular since before I was born, and this OSCARs season she's proved once again why designers keep her around. Like Viola before her, Nicole rocked a classic Armani Privé design, sticking well within her comfort zone with the figure-hugging silhouette that has become her staple. Nicole has to be one of the few people in Hollywood who can pull this colour scheme off without looking like an extra from The Walking Dead, with her pale skin and fair hair a perfect match for this nude gown. Not gonna lie though, we're a little disappointed that man-candy husband Keith Urban wasn't around to accessorise. Add a guitar and they'd be red carpet royalty.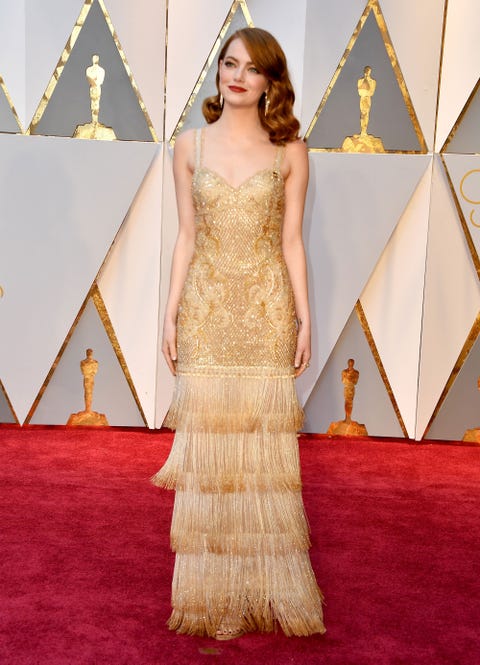 Fourth Place: Emma Stone
Emma Stone and her crazy big eyes charmed her way into our hearts with her OSCAR winning role in last year's old fashioned Hollywood musical La La Land, and her vintage kick lived on during the red carpet coverage this year. Em served up effortless chic in her beautifully detailed Givenchy, making her the first Best Actress winner to rep the brand since Audrey Hepburn back in 1954; and with her waved hair and rouged lips, she gave Hep a run for her money as the poster child for old Hollywood glam. Spilling the tea tho, the one drawback to Emma's wardrobe is her reliability: after all, she's been wearing these kinds of looks for the past few years, and at only age 28 we'd like to see her switch up her colour scheme and silhouette a little more regularly.
Third Place: Ruth Negga
Ruth Negga made waves with her Academy Award nominated role in Loving, and her film's title pretty much nails how we're feeling about this Valentino design. Tbh, this gown teeters on the edge of disaster, with the modest neckline, high waist and long train veering a little too far into Mormon territory for our liking; but thanks to the daring colour choice, a well-placed headband, some bold makeup and an anti-Trump blue ribbon, Ruthie manages to hold firmly onto her cool girl title. Plus, look at those puppy dog eyes. Could you really tell her she looked anything but beautiful? Really?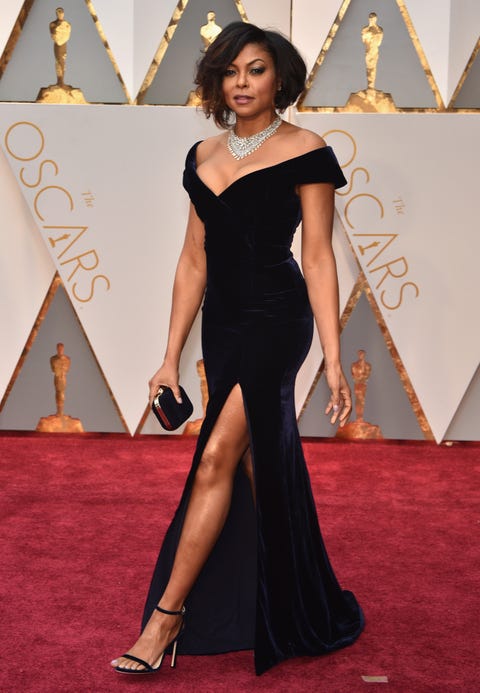 Second Place: Janelle Monáe
Janelle Monáe has never been one to shy away from a bold fashion choice, but her typical style risks often channel Tilda Swinton, taking the form of a super sharp tuxedo. For her OSCARs red carpet debut, J went all out with a stunningly executed Elie Saab gown which harks back to her musical alter-ego Cindi (an androgynous android figure, duh), while somehow managing to work in a queen of the faeries vibe as well. On anyone else, the look could have been disastrous, but J pulls it off spectacularly, ensuring that she's the one rocking the dress and it's not wearing her. And just when we thought she couldn't get any cooler, she decided to accessorise with what's been described as a Jennifer Behr "crown". Some people have it so good.
First Place: Taraji P. Henson
Janelle's Hidden Figures co-star Henson usually stands out for her trashtastic wardrobe as Cookie on the hit TV show Empire (think The Nanny meets Kylie Jenner), but she showed an entirely new side to her look on the OSCARs red carpet in this truly stunning Alberta Ferretti gown. Henson's dress was cinched to perfection, hugging her hourglass figure to a tee before widening into a sexy Jolie-esque split. The stunningly fitted gown, along with the statement necklace and classic curls, exuded Breakfast at Tiffanys glamour with a 2017 twist - and the fact that Henson was the last person we expected it from makes the look so much better. Never change, Taytay.
What were your thoughts on the OSCARs red carpet looks this year? Was your fave on our list, or were they robbed of their title? Let us know your thoughts in the comments below!