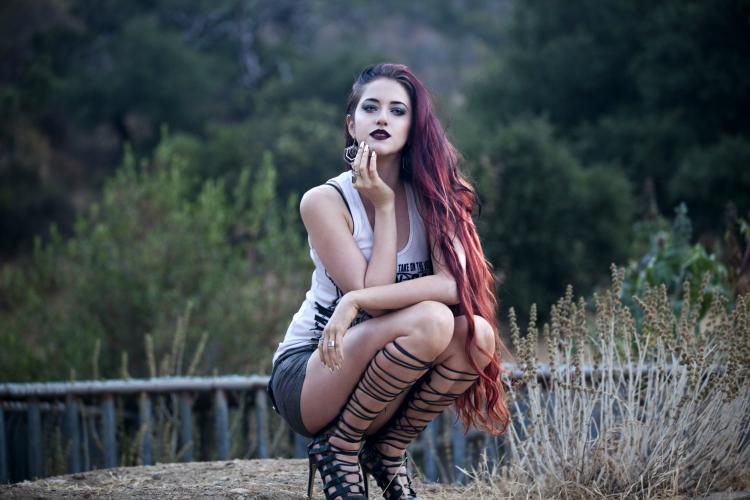 Margarita Monet, lead singer of heavy metal up comers Edge of Paradise, has joined us today to discuss what drives their unique sounds, lyrical muses and their undying passion for metal. 
Hello Margarita, it's so nice to have the opportunity to talk with you! 
Likewise! Thank you so much for having me! 
In three words, how would describe Edge of Paradise's sound?
Melodic, energetic and cinematic. 

Before joining Edge of Paradise, were you a part of any other bands? How was the band ultimately created?  
You know, I never imagined that I would be fronting a metal band. I grew up playing classical piano and performing in musical theatre; that's what I went to college for as well in NYC. When I moved to Los Angeles, I met our guitarist Dave Bates and we were both hired to work on a music project by a local producer. A month later we decided to form our own band, and that's how Edge of Paradise was born. Music is a huge part of me: I love creating, I love the stage and being in this band allows me to do everything I love. It's not easy, but it's pretty awesome!
You worked with legendary metal producer Michael Wagener on Immortal Waltz - what do you feel he brought to the sessions that was unique, and how do you think he helped the band's sound to evolve from the previous record, Mask?
It was such an inspiring and really incredible opportunity to work with Michael - he is legendary in his work and a super cool guy! We're looking forward to getting back there and recording some more! He really guided us and allowed us to grow into our sound. There are a lot of layers to the songs on Immortal Waltz and Michael really found the right sounds so every instrument has its own place. It's all about the music and doing the right thing for the songs. We definitely learned a lot from him! And we sound like a completely different band now compared to Mask - the biggest reason being because songs on Mask were already written by Dave and Robin McCauley (MSG) from Dave's previous band, Bleed. On Immortal Waltz, Dave and I wrote the songs together. 
What makes Edge of Paradise unique? 
I think it's where we come from. Dave is inspired by traditional heavy metal, and he's a monster guitarist, and I come from a classical and theatrical background. When all of those elements compliment each other in a song, we're able to create something unique! And our lineup is really tight, we're definitely one unit on stage and feed off of each other! John Chominsky is a solid drummer, he really holds everything together, and Nick brings great energy to the band, completing the Edge of Paradise puzzle.  

What lead you to become metal singer? Has it always been a dream of yours? 
It kind of happened by chance. When I met Dave, I hadn't discovered what I could do with my voice until I started to record Mask, and of course it's a never ending evolution. But I always dreamed of creating something of my own and sharing it with people. I've always been a performer so I'm really happy with what I'm doing. I also love to create art: I've made our website, posters, I create some of my own costumes like you'll see in our music videos. I love traveling and meeting people, and I'm excited for the future of this band!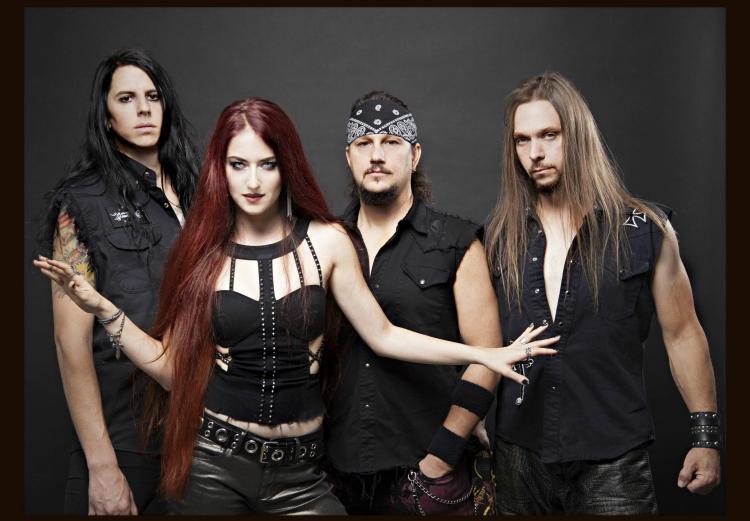 If you weren't involved in music, what career do you think you would've chosen?
I'd be working on a time machine!

When writing, do you take inspiration from real life or do you consider yourself to be a storyteller?
Most of it is from real life, my outlook on life or certain issues, finding meaning in what happens in this world; saying something that I can't express in just words. Music is very powerful, you can really evoke some feeling and send a message with a melody, without having to say anything literal. 
Is there a song that you're most proud of writing? What was the inspiration behind it?
I put so much of myself in every single song that it's hard to choose, but I'm super excited about our new song 'Alive'. It's going to be released in a few months, we just filmed the music video for it! The inspiration behind it is exploring what makes one feel alive. I've always wanted to live life so when I look back I'll have something special to remember, and the song kind of draws from that, whether its a human connection that makes you feel alive, experiencing nature or both. Whatever it may be, sometimes people take life for granted and it's important to remember that we're very lucky to be breathing, and it's up to us to make the best of our experiences! Especially these days, where we live pretty much in virtual reality created by all the gadgets, it's important to break away from that and breathe a little! 
You mentioned filming a music video for an upcoming song called 'Alive' - when can fans expect its release? How does it differ from your past music?
Yes! We're very excited about it, we're planning to release in the beginning of fall. It's very different from our previous songs. Chuck Johnson produced the song and Jay Ruston is mixing. Some people who've heard the song said it's a bit of a mix of Rob Zombie and Ramstein, and the music video is sci-fi, so we can't wait to get it out there!
Is there one song you wish you had written? If so, how has that influenced your lyricism? 
I really like songs that paint a picture, so when you listen to it, it really sparks your imagination and draws you into that world. So I try to do that with our songs, to really create an experience for the listener!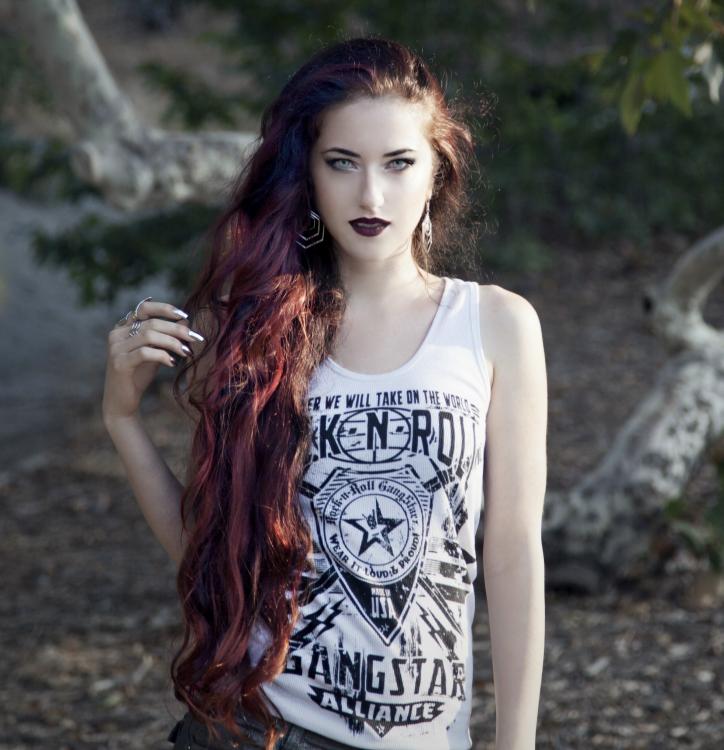 Can you share any details with us about album three?
The music is a bit heavier and more industrial, but it still sounds like us. We're experimenting with new sounds, and there are mostly faster songs on this one. Immortal Waltz is more mid-tempo with a few ballads; this next album is gonna be high energy, with lots of catchy hooks and driving rhythms!
Just over a year ago you joined forces with Extreme Management Group. Has that changed how your write and record an album? Has it been a positive change for you?
Not at all. That's purely from a business standpoint. You meet a lot of people along the way, some are a right fit, some are not. It would be cool if we could just deal with music and the creative part, but there is so much more that goes into being in a band. It's like launching a worldwide business - you gotta really brand it to be able to do this long term, so it's important that we surround ourselves with people that can help us grow this. We're working with more people on this, and we'll be announcing some additions to our team soon!

You're currently on tour - what have been your favorite shows?
Over the last few months we've been playing locally in California, we're heading out to the East Coast in August. We loved playing at Marquee 15, it's such a beautiful venue out in Corona, California. We're actually playing there on July the 16th for That Metal Show with Eddie Trunk, it's gonna be fun! 
Speaking of Eddie Trunk, you have an interview coming up with him soon. If you could interview two artists, who would they be and why?
We're actually playing a show for that: Eddie Trunk is introducing us and then the three of them are doing their show after, so I'm not really sure what to expect but we'll see what happens this weekend! 

But if I could interview two artists it would be Bruce Dickinson and Robert Plant. They've had such long careers and have created some of the best songs out there. I have so many questions about their experiences, and they would have a ton of amazing stories! 
Also, I've always wanted to meet Ronnie James Dio. Unfortunately I didn't get a chance to, but he is one of my biggest influences! 
Download the band's cover of the Black Sabbath classic 'Children Of The Sea' here!
Some bands have rituals when preparing for a show. Is there anything special you do?
Just a typical sacrifice ritual! 

Haha, not much, we just warm up with the instruments and hit the stage! 
Let's say you're performing at your dream festival, what other artists would be there? Any special collaborations you'd like to participate in?
Well of course Iron Maiden will be there!

It would be awesome to play with Volbeat: We listen to their music on the road and it would be fun to collaborate with them! I also really like Epica - they're great musicians! 
When you're not touring, what do you and the rest of the band like to do? Do you still sword fight?
We rehearse and record, haha - not much free time! We like to get together at John's house, we're all really good friends and it's fun to hang out! But we're all always so busy. Part of it is living in Los Angeles is a rat race, and everything is really far from each other! I haven't been sword fighting much, we've just been so busy with the band, but I need to brush up on my skills. 

What is the best thing about being a part of Edge of Paradise?
Creating something that many people around the world can enjoy and having the chance to go out and share the music with them at shows! 
Thank you so much for doing this interview with us! Are there any final words you'd like to say to your fans?
I just want to thank everyone for the support! Keep an eye out on our pages: July 22nd, our music video for 'Shade Of Crazy' is premiering on Revolver and in August, we're heading out to the East Coast! You can check out the trailer for the video here: 
And we look forward to meeting as many of you as possible on the road! Have a great one!
Make sure to check out Edge of Paradise on their East Coast tour this summer!
Quote

 

07/16 That Metal Show  M15, Corona, CA
07/28 Rockers United w/t Papa Roach Lucky Strike, Hollywood, CA
08/19 Tim Owen's Traveler's Tavern Akron, OH
08/20 Looney Bid, Bradley, IL
08/21 LiveWire Lounge, Chicago, IL
08/22 Meet & Greet Black Circle Records, Lake Geneva, WI
08/25 Token Lounge, Westland MI 
08/26 Music Lady, Plainfield, CT
08/27 Maywood, Raleigh NC
08/28 Riff House, Chesapeke VA
10/15 BFE Rock Club, Houston TX

 
And don't forget to check out their official social media pages!
Quote