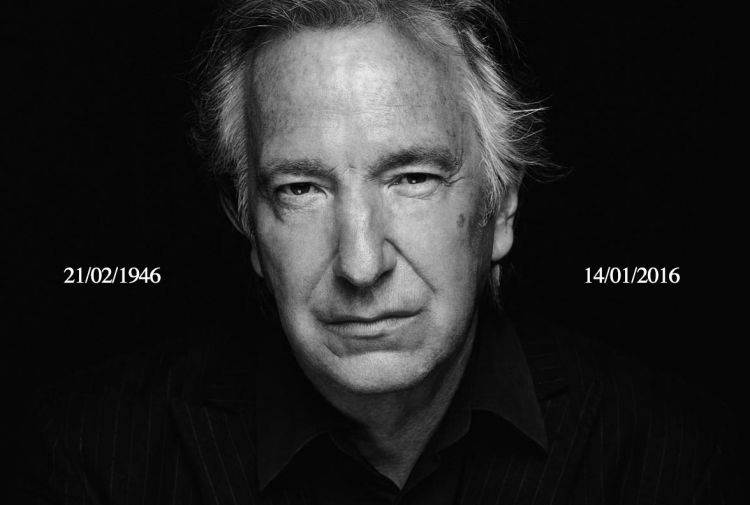 In the second of two major celebrity deaths this week, it has been confirmed that prolific English actor Alan Rickman has passed away earlier today.
In a statement released to press just hours ago, Rickman's family confirmed that the death was cancer-related. "The actor and director Alan Rickman has died from cancer at the age of 69", said the press release. "He was surrounded by family and friends."
Older viewers may remember him for his role as Hans Gruber in Die Hard (1988), his Bafta-winning part as the Sheriff of Nottingham in Robin Hood: Prince of Thieves (1991), or his portrayal of Emma Thompson's foolish husband in Love, Actually (2003). But for younger fans, his most iconic role will always be Severus Snape in the Harry Potter series, a character he portrayed for over a decade.
On the memorable part, for which he won an award for best character portrayal in the entire Harry Potter franchise, Rickman once stated, "What is splendid is that people in general adore Snape. He is sarcastic, stubborn, etc, etc...But he is also fascinating. I have a lot of fun impersonating him, I take immense pleasure in playing someone so ambiguous. We never know what to expect nor do we know what he really thinks."
Following the conclusion of the Harry Potter series, Rickman tried his hand at directing, both directing and starring in passion project A Little Chaos (2014) alongside Sense and Sensibility (1995) co-star Kate Winslet. His last appearance will be in Alice Through the Looking Glass, in which he will play Absolem the Caterpillar, due to be released later this year.
Rickman was notoriously private about his personal life, to the extent that it once took him three years to inform the press that he had been married. He met his first and only girlfriend in 1965, at the age of nineteen, when he began a relationship with eighteen year old Rima Horton. They moved in together in 1977 and their relationship continued until his death. However, while they were wed in New York City in 2012, Rickman did not officially confirm their marriage until 2015, presumably putting the lack of news about their wedlock down to the fact that no one had attended the wedding. "It was great because no one was there. After the wedding in New York, we walked across the Brooklyn Bridge and ate lunch", said Rickman, before confirming that he had given his wife a simple $200 ring that "she never wears". While Rickman never had any children, he will leave behind his godson, fellow actor Tom Burke.
Somewhat curiously, Rickman shared several similarities with rockstar David Bowie, whose death also shook the world earlier this week. Both were successful English male actors, and both passed away from cancer at age 69. Let's keep our fingers crossed that the old Hollywood superstition about celebrity deaths coming in threes is proven untrue.
Rest In Peace.