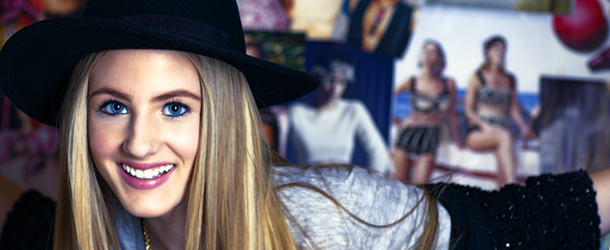 Pop the champagne, prepare for an extra stamp on your stan card, and mark your calendars, for today is the day we witness the birth of a popstar in the making!
Thirteen year old Nova Miller, touted by many as the next big thing in pop and Sweden's answer to Disney Channel teen idols such as Demi Lovato and Selena Gomez, has premiered the official lyric video for her first official buzz single 'Little Miss Perfect' online, and it's sure to impress.
Aiming her guns at social media websites like Tumblr with lyrics such as "I'm not a beauty queen/Not on the hipster scene", and targeting big businesses with name drops like "Loreal says that I'm worth it/But I'll never be Little Miss Perfect", the song marks one of the strongest debuts we've seen in recent years. A catchy, summery pop beat, age-appropriate inspirational lyrics and the rather remarkable, distinctive vocals of Miller herself combine to create a song which, in the midst of aiming to become a 'Born This Way' for the younger generation, has morphed itself into a jam for the ages.
And it doesn't stop there! Ahead of the release of her debut EP in the coming months, Nova's team have sent us over a few songs for us to review exclusively for #PopHatesFags readers. 'Supernova' continues the trend of self-empowerment songs from Miller, with lyrics like "Shine like a supernova/Like a shooting star bursting in the night" backed up by one of those catchy post-chorus breaks of "Like a supernova (ah, ah, ah, ah, ah, ah)" we all enjoy. It's a little bit of Labrinth's 'Beneath Your Beautiful', a little bit of Ke$ha's 'Animal' and a whole lot of inspirational pop goodness. Meanwhile, 'Guitar Don't Lie', a more rock-based ballad appropriate to the title, is an ode to the power of music which features Nova cooing "The melodies/Come from these dreams/They make everything alright/Cos my guitar don't lie" over a Kelly Clarkson-esque production. It definitely allows Miller's pitch perfect vocals to shine through, which is why we can only imagine how amazing this will sound live.
While we haven't heard all that many tracks from Nova yet, those we have listened to so far show a young girl with vocal mastery, an awe-inspiring ambition and a unique personality far beyond her years. We can't wait to see what's next for Nova Miller!
Check out the lyric video for 'Little Miss Perfect' below and make sure you let us know what you think in the comments! Don't forget to check back in with #PopHatesFags over the next couple of weeks when we'll have our exclusive interview with Nova herself.