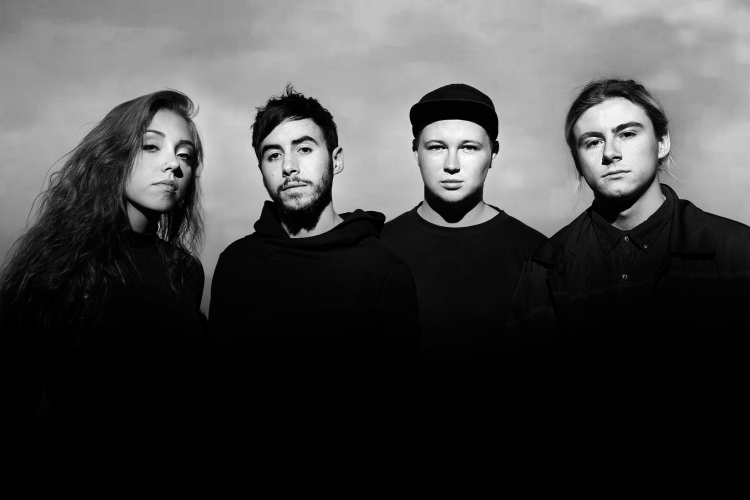 Words are a funny thing. We spend so much time trapped inside the prisons of our own minds that when we go to share our thoughts with others, we often feel as though our carefully curated words fall short of the meaning they're designed to carry. We overthink, we hold our tongue, we hit backspace, and we discard what's on our mind from fear of judgement.
But the imprint of these unspoken words remains behind, scratching at us like grains of sand left over from a day at the beach. It's these leftover phrases that haunt and inspire the Ontario-based quartet Glass Face. Layered by the ethereal harmony of Amelia Fraser on vocals, Cole Sefton on guitar, Dylan King on keyboard, and Rowan Grice on drums, the band has been working together for over a year now, treading the line between organically developed musicianship and electronic enhancement with masterful expertise. With each member a classically trained musician in their own right, it's not surprising that such a fusion of talents would lead to a productive and cathartic release of unspoken moments.
What might have been unexpected was how many people around the world connected with them. After a high profile placement of their haunting dreamscape of a debut single, 'Holland', on MTV's hit TV show Teen Wolf, the track was propelled forward to become one of the most popular songs on Shazam for that week as viewers scurried to their phones to find the faces behind the genius. Since then, the song has only grown in popularity, accruing over 250 000 streams worldwide.
Now the band is moving on to their most ambitious project yet. After a surge of online buzz from blogs such as CBC and HillyDilly, the band has released their technodelic video for their cover of song of the moment, Drake's 'Hotline Bling'. Included in the video is a toll-free number, which when dialed will give some clues to their debut EP and invite you to leave a message for the band. And with EP You Are Nowhere scheduled for release on Christmas Day, all those thoughts they kept to themselves for so long are about to be set free.
Words can't always express our thoughts, but music can. Bite your lip or sing your lungs out: Glass Face has you covered.
Download Glass Face's cover of 'Hotline Bling' for free on their Soundcloud, and call their toll free number on 1-844-401-5638 to chat with the band.