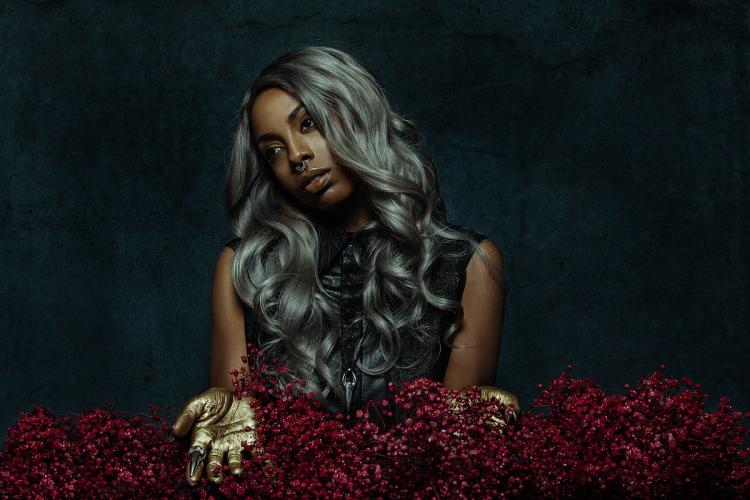 Moxiie first appeared on the pop music scene back in 2011 with her breakthrough single 'Dancing in Dirt', which proved right off the bat that she wasn't here to play. The single was the first from Moxiie's debut EP Jungle Pop, named after her self-created genre of the same name; and this in turn was followed in 2012 by her first album Savage, which featured A-list producers such as Reo (Beyoncé's 'Hello') and Peter Wade (Kylie Minogue's 'Les Sex').
Following this, Moxiie released a dancehall-inspired EP entitled ScandiRara in 2013, which was followed by several experimental singles in which she explored new sounds and shaped her artistic vision of what she wanted her music to sound like. Now, Moxiie is planning another single release which we're sure will snatch your Brazilian Remy weaves and leave the blogosphere bald.
The Haitian-American beauty joined us today to discuss where she's come from, where she's going and the social issues she strives to fight for through her music.
Hello,

Moxiie

! Thanks so much for giving us the opportunity to talk to you. How are you today?





Thank you for reaching out! I'm feeling good right now.


 
Let's start from the beginning. You released your first album Savage back in

2012. How has your sound evolved since then? Has your opinion on the music

 industry changed at all?

Firstly, thank you for knowing about Savage. That was my second project: before that I did an EP [Jungle Pop]. I've changed so much on a personal level so it's been a pretty organic growth, and that is reflected in the songs I write and the choices I make.

I think that during [the recording of] Savage I was still working out a lot of bad people-pleasing habits. Having been so focused on pitching songs in the past, it was a time where I had to break free of thinking so much about what is "hot"

.


 


Since Savage, you've released several stand-alone singles. Are you enjoying the artistic freedom and lack of responsibility that singles can provide? Or are you working on shaping them together into an EP or album?

I put out another EP of dancehall inspired pop songs [ScandiRara] after Savage. Since then, I've been finding my way and developing a sound that truly feels like me. Singles have been a way to still give music in the meantime. I'll definitely release an EP - really excited about getting to that again from where I am now.
 
A lot of our members are Britney Spears fans and many found out about you thanks to your visual cover of her smash hit 'Toxic'. On first listen, however, people may be surprised at how different and innovative your version is from the original song. How did the idea for that cover come together?



Thank you. That 'Toxic' cover came together in a rehearsal. I was putting together a new set and felt like it needed a familiar moment to share with the audience. I just started to freestyle a different version of 'Toxic' and Surreal, my producer said, "Okay, you've convinced me." Then we recorded it a few days later.




Let's talk about your brand new si

ngle 'Don't See You'. Could you tell 

us about the meaning behind this song for you? What was the songwriting process like?





Sure. 'Don't See You' is about just realising where I had lapses in judgment, allowing people and situations into my life that really should have never been that close to me, but also just owning it. I'm basically saying "Hey, you messed up by betraying me and I messed up because secretly, I knew better."


 

You released a music video for 'Don't See You' just a few weeks ago. What was the inspiration behind the video?





I was inspired initially by the black and white CK One ads, and that led me to portraits by Michael Avedon and Irving Penn. I wanted to convey intimacy, distance and loneliness almost simultaneously.

 
 


Has music always been your passion or was it something that emerged 

later on in your life? If you were to describe your sound to new listeners

, which three words would you use?



I've had a passion for music my entire life. I'd describe my sound as authentic, experimental, and electronic.


 

Apart from music, a quick perusal of your Instagram page shows that you're passionate about makeup. How do you intertwine those passions? Does music influence your makeup work at all?





Makeup is a just another means of expression. That's something that came way later for me, but it's fun. I also love the power of transformation it gives. The only way the two go hand in hand is when it's time to shoot a music video. Then, makeup is a great tool to carry out the vision.


 

Some people describe the anxiety and stress that they experience when performing live, but when I watch videos of your live performances it struck me that the stage is your element. Have you always been such a natural on stage? What were your early performances like?





I appreciate that. It's funny, I get anxious when it's time to perform, but it comes from a really intense desire to entertain, connect and basically not screw up, especially when choreography is involved. I think I used to be a little more crazy, but I'm finding a space that feels good right now with performing. I'm really excited to develop that more. Everything before and after performing kind of feels like preparation for performing. Once I'm in it, it feels very right to be there.


 

If you were to list some artists who inspire you the most, who would it be?





I'm endlessly inspired by the greats. The usual suspects: Michael Jackson, Janet Jackson, Madonna and Grace Jones. Lately though I've felt inspired by SZA and Dawn Richard. With SZA it's her honesty and freedom, and with Dawn it's her fiercely independent spirit.





Especially as a [woman of color], I seriously appreciate the presence of these women. It's important.


 
You've been hinting on your Instagram that new music is coming. Can

you spill the tea on when we can possibly expect your 

next release and what it might sound like?



Haha, I love that you pay attention to details. I'm looking to release something by August.





It's definitely more intimate and experimental. At the end of the day, I love pop music so there are elements of pop, but it's different for sure.


 
Demi Lovato put your single 'FVRS' on her Spotify playlist. How did it feel to be recognised by such a huge musical personality?



Demi Lovato is such a fighter and an amazing artist. I have massive respect for her and I felt really grateful! That was a cool moment. A gesture like that from such an influential person actually affects the life of an indie artist like me.


 



You are very vocal about the issue of immigration. What's your personal connection to that issue and what would you most like people to know about it?





I'm a first generation Haitian-American. While I was born here, I saw first-hand the struggles of building a life in the U.S. 





It can be very traumatic moving to another country, especially with children and grandchildren, or at least I think so. We're in dangerous territory when the word "immigrant" starts to lose humanity and is even used in a way that wants to encourage xenophobia.





I just can't shut up about it. This is too important.


 

Recently you designed an 'Immigrant Daughter' t-shirt which is available online. Bebe Rexha, one of the most successful new acts in the music industry, was seen rocking it on Instagram. How did you come up with the idea for a t-shirt?





That was really a special moment for me and I'm so grateful to Bebe for wearing it proudly. I wanted to create merch, but I needed to ground it in something that truly means something to me, and wouldn't end with t-shirts and hats. A conversation started around an issue close to my heart felt right. There was a list of ideas, but I resonated with that one the most. I sent it to my friend Reo, and he designed the text/typography.





Part of it was imagining people who don't consider themselves immigrants seeing these t-shirts and maybe appreciating that "those immigrants" are your friends, and their mothers, their fathers, their grandparents. It's about encouraging humanity.


 

 

Apart from immigration, are there any other issues you would like to spread awareness about?





Well, I'm very cautious. At the end of the day, I'm looking to figure out how to use my work to illuminate what I think is special, important, or beautiful. A few things I'd like to work with are: the importance of sisterhood among women and trans [women of color] being safer. I'm also passionate about food, and eventually want to share what I've learned around that. Just the relationship most of us have with it, things some of us do every day that slowly have negative effects.


 

In one of your posts on Instagram, you mentioned fantasising about reading your old journals to your fans. What's the main thing we would learn if we were to read through your old diaries?





Oh my god, I was a mess and doubted myself so much. I think I was crying almost every day at one point. So many struggles. Sometimes I read it just to remind myself that things have gotten better. It helps me to feel intense gratitude. I think they would find that we have a lot in common. 


 

Coming back to the topic of music, are there any artists you would like to work on a song with?





I'm not really sure, to be honest. Energy is such a factor for me, as well as artists that have strong perspectives and identity. Other than that it's really about the vibes and the universe letting me know, "Yes - try this."





Then I go from there. Right now is an exciting time, because a lot of people that really care about the music are coming up. I'm open to all possibilities.


 

Let's imagine you're going on a huge world tour now. Which countries would you like to visit the most?





South Africa, Haiti, Sweden, Netherlands, the United Kingdom, France, Iceland, Brazil and Germany - Berlin specifically. So many!


 

Thank you so much for doing this interview with us. Is there anything else you would like to say to your fans and people who haven't tuned in yet?



Email me! I wanna know who you are - and please excuse typos. 



Thank you!
Don't forget to follow Moxiie on her social medias over at Instagram, Twitter and Facebook and keep up to date with her on her official website! You can stream her latest single 'Don't See You' on Spotify and buy it on iTunes.